OUR DENTAL PLAN
If you don't have dental insurance, please don't let that deter you from visiting Augusta Dental. We are pleased to introduce a new, innovative plan to help you pay for your dental care. We call it the "No Problem" plan. And we like it because there are:
No high costs
No claim forms
No deductibles
No annual maximums
No waiting periods
No limitations on pre-existing conditions
You don't have to put off your dental care any longer. Now you can get the dental care you need more affordably. Your entire family, including all eligible dependents (unmarried children up to age 21) are eligible to participate in this specially-priced dental plan because you can get the dental care you need more affordably.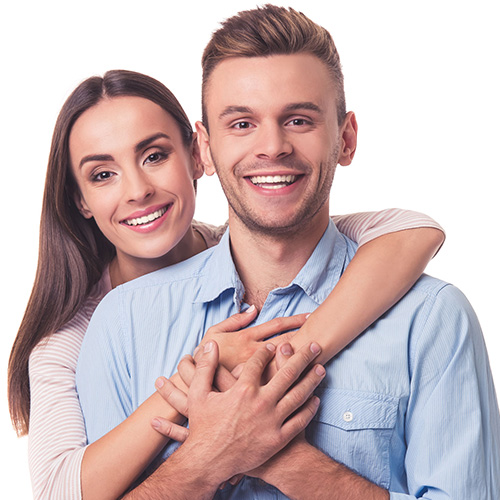 What Is It?
We are pleased to introduce a new In-Office Dental Benefits Membership Plan just for you. It is an annual, reduced fee, dental plan or "membership" that allows individuals and their families to receive high-quality dental care from Augusta Dental for a percentage off the office's usual, customary and reasonable (UCR) fees. This is not an insurance plan. No claims are filed. And no payments are made to any other healthcare providers. Dr. Alan Sevy is not a licensed insurer, health maintenance organization, or other underwriters of health services. Instead, this plan is an innovative way to pay for your dental care across the year for a low fee. This offer cannot be combined with any other offers, discounts, insurance, discount plans, or advertisements. It is a great choice for customers without access to any dental insurance because it saves you money.
How Does It Work?
Our In-Office Dental Benefits Membership Plan works like this: You, the patient, pay a one-time fee for a one-year membership that entitles you to select dental care services for twelve consecutive months. You, your spouse, and dependent children under 21 years of age are all eligible. (Children can be members only as dependents of adult members.) You can cancel your membership at any time during the twelve-month period, but the plan itself is non-refundable. It's not pro-rated. It's simply a flat fee for select services including important preventive care. It's that simple. To cancel, simply send us a note and we'll take care of the rest. It's that easy.
What Does It Include?
Our In-Office Dental Benefits Membership Plan includes the following services:
(2) Healthy mouth cleanings
(1) Four bitewing x-rays (cavity detection x-rays)
(2) Dental exams per year
(2) Fluoride treatments
Plus a 15% discount on all dental services
This plan excludes cosmetic services and dental implants
This plan does not include cosmetic services of any kind nor any dental implants. While important, the focus of this plan is to help you provide for your bi-annual preventive care with professional cleanings, X-rays, dental examinations, and fluoride treatments.
How Much Does It Cost?
The cost for our In-Office Dental Benefits Membership Plan is $260 per member. Each additional member is $230.00. If you had to pay outright for the services shown above the cost would be $302.00! You will save money by purchasing this plan while protecting your dental health through your investment.
What Are The Terms Of This Plan?
The fees outlined in our In-Office Dental Benefits Membership Plan or other established fees by Augusta Dental are non-refundable. All Plan fees are due at the time of enrollment. An additional fee may be charged for any missed, cancelled, or broken appointments without 24 hours prior notice. This Plan is non-transferable by patient. This Plan cannot be combined with any other insurance, dental plan, coupon, or discount. Failure to comply with the terms of the Plan may result in termination of the Plan and forfeiture of any fee paid by patient or other third-party. If the patient's account becomes delinquent or the patient is non-compliant, Augusta Dental reserves the right to refuse treatment and/or terminate the patient's participation in this Plan with 30 days written notice. if the patient's account becomes delinquent or patient is non-compliant. This Plan may be modified, amended or cancelled at any time with 30 days written prior notice and may be subject to other terms and conditions. Plan participants are responsible for scheduling their periodic treatments. Services not utilized at the end of each year's membership period are not carried over to the following year. Discounts apply only to services rendered by Augusta Dental and does not include treatment or services provided elsewhere even if you are referred to a specialist.
Augusta Dental
1485 W. Warm Springs Rd.,
Ste. 101
Henderson, NV 89014
Phone 702.616.1942
Mon: 8:00 am – 5:00pm
Tue: 8:00am – 5:00pm
Wed: 8:00am – 5:00pm
Thu: 8:00am – 5:00pm
Fri: 8:00am – 1:00pm (twice per month) 
(call for Friday details)
Augusta Dental provides general dentistry and cosmetic dentistry services,  including: comprehensive dental exams and cleaning, cosmetic dentistry, restoring your smile with dentures and dental implants and more. We see patients from in and around Henderson NV.
Dentist Alan Sevy from Henderson, NV offers the most advanced dental care in the area.